More Than a Trust Badge, it's a Guarantee
Everyone recognizes big brand names like Amazon, Walmart, and Target. But when it comes to the small guys, there's a bit of friction. BuySafe helps you instantly ELIMINATE that friction by giving your website visitors multiple trust factors, badges, and guarantees (so they know they're shopping with someone legitimate)…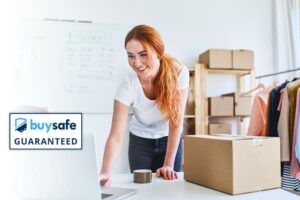 Everyone recognizes big brand names like Amazon, Walmart, and Target. But when it comes to the small guys, there's a bit of friction. BuySafe helps you instantly ELIMINATE that friction by giving your website visitors multiple trust factors, badges, and guarantees (so they know they're shopping with someone legitimate)…
Trusted brands that use
BuySafe
Average increase
in repeat buyers
Average increase
in conversion rate
Average return
on investment
Better Safer Shopping Guaranteed
Your shoppers receive three additional benefits with their purchase, free of charge.
All benefits are good for 30 days and are paid out by BuySafe.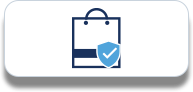 $1,000 Purchase Guarantee
If your shopper does not receive the products or services ordered in accordance with your terms of service, we'll help to resolve the problem or issue a refund up to $1,000.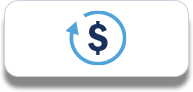 $100 Lowest Price Guarantee
If the price goes down on your site within 30 days of purchase, BuySafe will reimburse your shopper the difference, up to $100.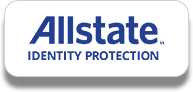 Help detect threats to your identity and finances. If fraud occurs, get 24/7 dedicated support and up to $1 million in expense reimbursement.†
Learn more
Experts in ecommerce trust for over 15 years
purchases protected monthly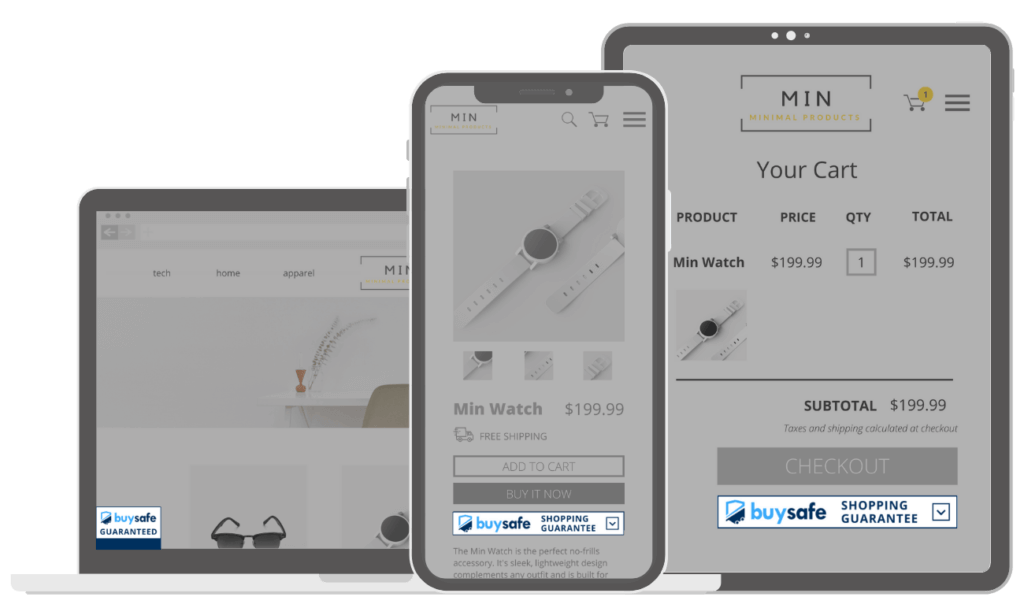 Easily Create Customer CONFIDENCE...
BuySafe trustmarks are placed on your site at critical decision-making points, like the cart and product page, giving shoppers the confidence they need to complete their purchase.
Eliminate any shopper HESITATIONS...
By clicking on the BuySafe trustmarks, shoppers see information about your store that helps them decide to purchase – like your shipping and return policies – as well as a summary of their free BuySafe benefits.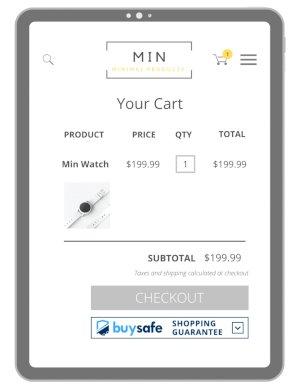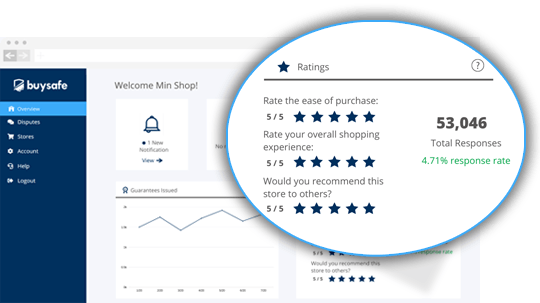 Gather insights into buyer BEHAVIOR...
Manage all guarantees issued, feedback from buyers and store information in a single, intuitive dashboard.
Works on all platforms.
Install in minutes.
Ready to Turn your Skeptical Shoppers
Into

Confident Customers?