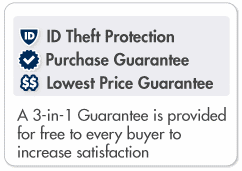 buySAFE Guaranteed Shopping
programs are used by thousands of online merchants to increase conversion and customer satisfaction. buySAFE Guaranteed has been proven to address the three primary concerns of online shoppers which results in increased confidence for the shopper and increased sales for the merchant. A buySAFE Guaranteed purchase includes ID Theft Protection, a Purchase Guarantee and a same store Lowest Price Guarantee.
The Problem:
A lack of consumer confidence is a systemic issue on the Internet that prevents online commerce from reaching its full potential. According to the U.S. Department of Commerce, of the over 10 trillion dollars of commercial activity in the United States, 3 trillion dollars could be done online. However, online commerce only accounts for roughly 200 billion dollars today. That means we have achieved less than 7% of our potential. The problem is due to the inherently disconnected nature of an online shopping experience which results in A) more buyer perceived risks (i.e. merchant non-performance & identity theft), B) higher perceived costs to resolving problems (i.e. getting a virtual merchant to solve a problem or having to ship a return back to the store) and C) a plethora of merchant choices which leads to price uncertainty.
As most online merchants do not fully address the issue of online buyer confidence, the opportunity cost from lost sales and profits for them is substantial.
The Solution:
buySAFE, Inc. enables online merchants to provide a third-party Guaranteed Shopping program which increases confidence and buyer satisfaction. When the Guaranteed Shopping program benefits are displayed throughout the buying process, merchants reduce their buyers' concerns about information security, product authenticity, timely delivery and getting a good price. For online merchants, Guaranteed Shopping increases website conversion, sales and overall profitability.